[Video] Baltimore Ravens Player Endorses Drafting Manti Te'o
Updated: January 31, 2013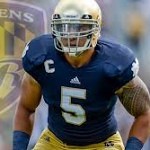 The smart guys at TMZ ran into Baltimore Ravens linebacker Adrian Hamilton while he was signing some autographs for the fans.  A reporter asked him if he was familiar with Manti Te'o and would he support the Ravens drafting him.  The response was classic.
"Is he a good linebacker? Yeah? Then why wouldn't we?!"
That pretty much sums it up how guys feel about Manti "Catfish" Te'o. No one cares if Manti gets girls off Facebook, Twitter, Craigslist or Christian Mingle- as long as he handles business on the field.
Video below:
For those wondering, here is the confession video from Ronaiah Tuiasosopo where he confesses to being gay, in love with Manti Te'o, and the creator of the Lennay Kekua hoax: