Geno Smith Agrees to Participate Fully in Combine, Glennon, Nassib and Barkley Follow
Updated: February 13, 2013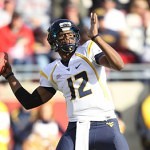 With no clear cut #1 passer in the 2013 draft, scouts are going to make their money in determining which one of these guys are worth investing in for the next few years.  Geno Smith theoretically leads a group that also includes Ryan Nassib, Matt Barkley, and Mike Glennon who all could end up the first quarterback taken.
That's why it isn't surprising that after Geno announced that he would participate fully in the combine all of the other quarterbacks quickly announced the same.
Some people believe there is no starting quarterback in this draft so it will be interesting to see who has the best workout particularly in accuracy and footwork drills.  Smith and Nassib should shine… but will they?
You can watch the combine live in two weeks on NFL Network to find out!