TCU QB Casey Pachall Suspended after Busted for DWI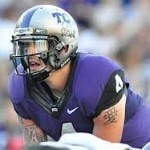 Casey was having a pretty good season, building on a nice 2011 season in which he planted his name as one of the Quarterbacks of the future to watch. That was before he decided to get behind the wheel of a car while intoxicated and cost himself his spot on the team for the time being:
According to NBC DFW, Pachall was arrested overnight Wednesday near TCU's campus on a DWI charge. The report states that an officer witnessed a car, operated by Pachall, failing to stop at a stop sign and hitting a curb. After being pulled over, Pachall reportedly registered a blood alcohol concentration level greater than .15.

TCU coach Gary Patterson has announced that starting quarterback Casey Pachall has been suspended indefinitely.
The ironic thing is that the biggest knock on Casey is "is this the type of kid you can trust with your football team?" Looks like that question will linger on until he goes without incident on or off the field for an extended amount of time.
Best of luck to him.