TCU QB Casey Pachall Leaves School to Enter Rehab
Updated: October 10, 2012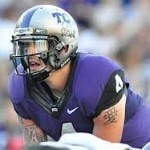 I won't judge Mr. Pachall. He probably feels horrible right now. At one time Casey Pachall and his Horned Frogs were legit BCS contenders now after a slew of bad decisions Casey has found himself getting DWI's and the team has blemished their unbeaten streak.
Hopefully this is the wake up call this young man needs.
Pachall will be taking time off and will not play for TCU the rest of the 2012 season. Pachall has dis-enrolling from the university this semester and will enroll in a drug/alcohol treatment center. There is an option for him to return during the upcoming spring. Pachall is a redshirt junior and has one season of eligibility left.