2013 NFL Mock Draft: October 11th
Updated: October 11, 2012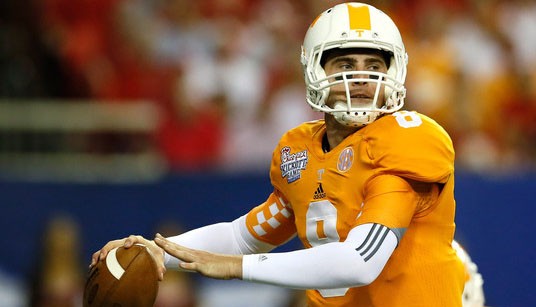 NFL Mock Draft: Updated for October!
I am not going to write a long explanation for this mock. Basically, it was time to update the draft and include some guys that were left out of the last mock I did. Namely Tavon Austin makes his first appearance. Geno Smith moves up, Tyler Bray moves up, and a bunch of other guys move down.
Check it out:
1. Jaguars: Barkley, Matt QB USC
Once again, if Mr. Gabbert cannot avoid this team getting a top 3 pick, then this decision will be made for him.
2. Chiefs: Smith, Geno QB West Virginia
Geno Smith #2?! Yes, yes. In the NFL there just is not enough Quarterbacks to go around. Who else can the Chiefs turn to? Brady Quinn? Ricky Stanzi? They have to sell the farm to get Geno.
3. Browns: Hunter, Justin WR Tennessee
Greg Little is not cut out for the NFL. At least not from what he's put on tape. Just too many drops. Browns replace him here.
4. Raiders: Lotulelei, Star DT Utah
The Raiders would like a quarterback, but something tells me they are committed to this Carson Palmer mistake. Star will impact the defense and make Dennis Allen a little bit happier.
5. Rams: Allen, Keenan WR UCLA
Danny Amendola gets hurt every season…. and he is their only good receiver. I think this is an easy pick here.
6. Dolphins: Matthews, Jake OT Texas AM
What are the Dolphins supposed to do? Allow Ryan Tannehill to run for his life and throw 18 interceptions every year? Doesn't sound like a formula for success… they have to grab at least two receivers in the first few rounds of this draft as well.
7. Titans: Mingo, Barkevious OLB LSU
No RB? I believe Chris Johnson's problem is a lack of talent all around him.. but that is a different blog for a different day. The Titans' are quietly building a solid defense. Getting the player with the most potential in this draft is not going to hurt their rebuild. At all.
8. Panthers: Hankins, Johnathan DT Ohio State
Quick… name a Panthers' defensive tackle. See, you couldn't do it. No surprise the Panthers allow almost 6 yards per carry.
9. Colts: Jones, Jarvis OLB Georgia
Jarvis Jones was born to play in a 3-4 like the Colts'. This would be a match made in heaven. Imagine if they can flip Freeny for some other good picks too… the rebuild could be over that fast.
10. Buccaneers: Milliner, Demarcus CB Alabama
Ronde Barber is a safety now and should be retiring soon. That leaves Eric Wright and Aquib Talib at CB.
11. Jets: Montgomery, Sam DE LSU
I honestly have no idea what the Jets are doing. I OUGHT to have them drafting a Quarterback and getting rid of Sanchez AND Tebow… but Rex has too much pride to commit to a full rebuild. So the Jets will flounder around the top 10 for the next half decade. Sorry Ganggreen fans.
12. Rams: Joeckel, Luke OT Texas AM
Sam Bradford gets hit almost every play he attempts a pass. This team has to sure up the line or their franchise QB won't have a long career.
13. Vikings: Short, Kawann DT Purdue
Kevin Williams is turning 33 soon. It is time to make a plan for when he retires, so the Vikings go DT here in the 2013 NFL mock draft.
14. Bengals: Werner, Bjoern DE Florida State
As said before, Michael Johnson is going to give you 4 really good games a year. That isn't good enough.
15. Bills: Bray, Tyler QB Tennessee
Bray moves up in our draft! I really don't like what I've seen from Tyler Wison so far this season. Yes I know he's been injured but in totality I just feel it is time to cement Bray as the better QB. The Bills need to get rid of the stat stuffer that is Ryan Fitzpatrick and get a guy who defenses actually may have to fear one day. Bray can be that guy, and I think he'd fit in with their core really well.
16. Saints: Banks, Jonathan CB Mississippi State
Tracy Porter is in Denver, and Pat Robinson cannot lock up two receivers at the same time. Team Bountygate needs to improve that secondary asap.
17. Eagles: Rhodes, Xavier CB Florida State
Nnamdi just is not the same lock down CB as he was in Oakland's scheme. He is still great, just not the #1 corner in the league anymore. It is time to bring in some young guns under him.
18. Lions: Lattimore, Marcus RB South Carolina
The Lions got some good production from Leshoure in the few games he actually played. Between Leshoure, Kevin Smith, and Jahvid Best does this team have a starting runner? Things to think about.
19. Cardinals: Lewan, Taylor OT Michigan
Kevin Kolb is going to get seriously injured if he continues to take the knockout shots that defenses have been able to get off on him. Part of that is him holding on to the ball forever, but also the blocking could improve.
20. Cowboys: Simon, John DE Ohio State
Is Anthony Spencer getting a Demarcus Ware contract? Let's wait and see… Jerry Jones just MIGHT pay him, which is ironic.
21. Broncos: Reid, Eric S LSU
It cannot hurt Rahim Moore and Mike Adams to bring in some top competition for one of Denver's starting safety spots.
22. Chargers: Eifert, Tyler TE Notre Dame
Anotnio Gates is no longer the All-Pro he once was. Part of that is injury, part of that is weight gain, part of that is just plain age.
23. Seahawks: Jeffcoat, Jackson OLB Texas
PETE CARROLL DOESN'T USE DRAFT BOARDS.
24. Bears: Teo, Manti ILB Notre Dame
Everyone has this pick… so it probably will not happen. For now I'll pencil in Urlacher's replacement here.
25. Steelers: Ogletree, Alec ILB Georgia
If Teo goes before the Steelers get a chance to pick then it will be between a runner to replace Mendenhall or another inside linebacker.
26. Patriots: Warmack, Chance OG Alabama
With the Patriots heavily invested in the running back position, I could see them stacking linemen too.
27. Packers: Bell, LeVeon RB Michigan State
If Alex Green runs (pun unintended) away with Cedric Benson's job, then I'll change this pick. For now the Pack get a runner to take some pressure off Aaron Rodgers having to make every single play for this team.
28. 49ers: Woods, Robert WR USC
The 49ers just drafted AJ Jenkins, signed Mario Manningham, and kept Randy Moss on an active roster. I reallllllly have no justification for this pick, but who knows how much longer Moss and Michael Crabtree will be Niners. Woods is the best player on the board too.
29. Bengals: Okafor, Alex DE Texas
I have the Bengals double dipping at defensive end because quite frankly, they cannot make the playoffs without generating consistent pressure and sacks on Ben Roethlisberger and Joe Flacco.
30. Giants: Amerson, David CB N.C. State
The Giants' defensive backfield has struggled to keep receivers on lock so far this season.
31. Ravens: Austin, Tavon WR West Virginia
Tavon Austin to the Ravens? There is a good reason for this. One, Anquan Boldin will be playing his 11th NFL season next year. Two, Jacoby Jones is not a starting receiver. Three, Austin can take some handoffs and add a scary element to their offense with Ray Rice. Imagine Joe Flacco in shotgun, Boldin and Torrey Smith on the outside, Ray Rice and Tavon Austin in the backfield…. man.
32. Texans: Williams, Terrance WR Baylor
We are at the end of the 2013 NFL mock draft. I have the Texans grabbing the best receiver on the board. Kevin Walter and Andre Johnson are getting up in age, and there isn't much behind them.