2012 #1 Recruit Dorial Green-Beckham Busted for Weed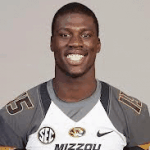 What in the name of Tim Tebow is going on in college football today? First we had Casey Pachall busted for DWI, and now Dorial Green-Beckham busted for that sticky icky icky oooh wee!
You may remember Dorial Green-Beckham as the #1 overall recruit coming in from high school who chose to take his talents to Missouri. Well, it seems that not only is he great at catching football passes….
The Columbia Tribune reports that 2012′s No. 1 overall recruit Dorial Green-Beckham, along with wide receiver Levi Copelin and linebacker Tory Boozer, has been arrested for pot possession.
I'm just kidding by the way. Lots of doctors, businessmen, etc. indulge in that habit though I personally do not. I don't judge the kid. Just don't get caught riding around with Keisha next time Dorial.
"The officer noticed the individuals sitting in a car and went up and made contact," Weimer said. "The officer observed the odor of marijuana. Through the investigation, the officer made the arrest of three individuals."

Weimer said there were two others in the vehicle at the time, but the investigation determined they had nothing to do with the marijuana and they were released.