Florida State's Brandon Jenkins Out For the Year With Leg Injury
Updated: September 4, 2012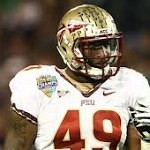 This is a big loss for the Noles. DE Brandon Jenkins is probably their very best defensive player and averages over 10 sacks a season. Florida State was/is my dark horse team to make the National Championship (if my other predictions fall through) and the loss of Jenkins will hurt them.
CBS is reporting all sorts of bad news. Jenkins even needs screws inserted in his leg to heal from the injury:
Florida State defensive end Brandon Jenkins, a two-time All-ACC selection, will miss the rest of the 2012 season due to a left foot injury, a source told CBS Monday night.

Jenkins is believed to have suffered a Lisfranc injury between the second and third metatarsal bones of his foot, a second source told CBSSports.com senior writer Dennis Dodd. Two or three screws will be inserted to the foot to promote healing.
As far as the draft goes this is very early. If Jenkins decides to go through the combine process then we'll get a good look at his numbers and see how well he heals up.