Connor Shaw Cannot Lift His Arm Right Now?
Updated: September 3, 2012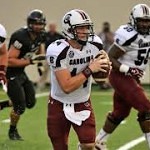 I gained a lot of respect for Connor Shaw during his South Carolina team's opening game at Vandy. Shaw isn't the most talented passer in the world but he certainly showed he can move the ball with his feet and stayed in the game after taking some tough hits.
Now… he is certainly feeling the effects of such pounding:
"It's just painful for him," Steve Spurrier said Sunday. "And he has trouble lifting his arm right now so it's pretty hard to play quarterback."
I doubt USC is going to the National Championship, but hey I do have a vested interest in seeing Shaw sit out that ECU game. Go ahead and heal up playa… my Pirates need any break they can get.