2013 Draft QB Denard Robinson Looks Shaky in Season Opener
Updated: September 2, 2012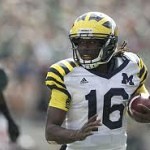 Michigan and Alabama was supposed to be the day's biggest game, played in Cowboy Stadium, and it was supposed to be the start of a Heisman Season for Denard Robinson.
Sad to say… that didn't exactly happen.  Robinson, who has been criticized for throwing "fair catchable" passes seemed to be his old self for better or worse.  Alabama's super talented defense made short work of the man known as Shoelace.
Denard finished the day 11/26 for 200 yards a touchdown and two interceptions.  He still has a way to go as a passer and his most efficient way of moving the ball is still running it.
We will see how he rebounds…. just dont expect to see him in the 2013 NFL Draft as a QB…