Tommy Rees Loses Notre Dame Starting Job to Everett Golson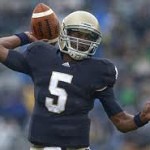 Tommy Rees will not be the quarterback when Notre Dame opens the 2012 season. He is currently suspended and with his absence Everett Golson emerged as the Irish's new quarterback. Freshman Gunner Kiel was also in the mix for the job as well.
However when it was all said and done, Golson came out on top:
Everett Golson is expected to be named the Notre Dame starting quarterback today, according to Keith Arnold of NBC Sports, as the team prepares for its opener in Dublin, Ireland next week against Navy.
I don't think Notre Dame will be in the title picture, but maybe Golson can make it an exciting season. He is already drawing comparisons to Charlie Ward.