Notre Dame QB Tommy Rees Pulls an Alfonzo Dennard: Arrested for Resisting Arrest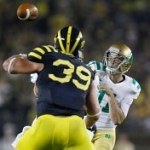 Young men of the world, you have to be smarter about how you encounter the police.  Yes, the police are way too "hands on" these days but you cannot fight fire with fire.  Not in these situations.  In a split second you could be justifiably shot dead by the officer you resist.
Tommy Rees and a teammate ran into the police and things got ugly:
Notre Dame quarterback Tommy Rees was pepper sprayed and arrested early Thursday morning after an alleged physical altercation with South Bend police, who had responded to a report of a loud party.

The 19-year-old Rees, who will be a junior in the fall, is accused of underage drinking and running from police outside a home at 716 N. Notre Dame Ave. about 12:30 a.m., police said.

Notre Dame linebacker Carlo Calabrese also was arrested at the home on suspicion of disorderly conduct in response to Rees being arrested.

Rees, from Lake Forest, Ill., was charged Thursday by the St. Joseph County prosecutor's office with two counts of resisting law enforcement, both Class A misdemeanors; battery, a Class A misdemeanor; and illegal consumption of alcohol by a minor, a Class C misdemeanor. Rees was originally arrested on suspicion of battery on a police officer, which would have been a felony.

Rees posted $250 and bonded out of the St. Joseph County Jail Thursday afternoon.

Notre Dame coach Brian Kelly released a brief statement Thursday regarding the incident.

"I am aware of (Thursday's) incident involving two of our football players," the statement read. "I am of course very concerned given the nature of the allegations, but I am still gathering information. I'll withhold judgment until I can collect all the facts and speak with both Carlo and Tommy."
Tommy Rees, Alfonzo Dennard, and every one else out there: if the police are trying to bust up your fun time, TAKE THE L and live to party another day.