Three Men Arrested in Montee Ball Case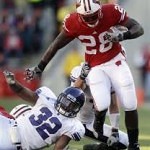 It looks like the police up in Madison have identified the men who attacked Montee Ball a few weeks ago. Three men have been arrested. The more puzzling part of this, is that Montee said he was jumped by five guys right? What happened to the other two?
This is a weird case but here are the details:
Wendell J. Venerable, Deonte J. Wilson and Robert A. Wilks, all 21 years old, were taken into custody on Tuesday and charged with substantial battery-party to a crime. No formal charges have been filed, though.

Ball suffered a concussion and a bruised jaw in the assault and missed the first week of preseason camp. A witness to the attack reported to police that he heard something along the lines of "one down, nine to go" by one of the assailants, possibly in reference to other UW football players.