Tim Tebow Sucks as a Quarterback, Takes Runningback Talk as a Compliment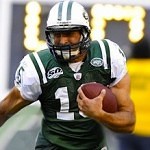 Here at MDHQ, I believe we said it from day one. Tim Tebow is just no good as a NFL Quarterback. That isn't a knock on Tim the man, his religion, the University of Florida, or any of that nonsense. Tim just simply cannot complete enough passes to start 16 games in today's NFL. Nothing more, nothing less.
Even with the 24 hour news cycle focused on making him look good, Tim has failed miserably as the Jets' backup QB. So much so that Merrill Hodge has claimed that Tebow should be moved to running back permanently.
Tebow's response to all of the running back talk? Well, see below:
On Tuesday, in response to an opinion from ESPN's Merril Hoge that Tebow permanently should be moved to running back, Tebow saw the silver lining in the slap in the face. Actually, Tebow didn't even see the slap in the face.

"Well I will take that as a compliment from him," Tebow said Tuesday, via comments transcribed and distributed by the team.
#tebowtime