Justin Blackmon Still Unsigned, Jaguars Want Protective Language in Contract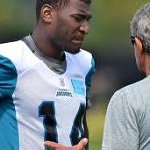 Justin Blackmon is fighting like hell to avoid having protective language added in his contract in case he messes up again. That is his right, but Mr. Blackmon is the lone unsigned top pick with a second year QB waiting on him to come in and work.
Here is the thing. When you do something dumb like get a DUI before signing a contract the other party has leverage on you. Plain and simple. The Jaguars know Blackmon won't hold out the entire season and eventually will sign his deal with the protective language involved.
Shaid Khan isn't playing around. Ask MJD, who is also unsigned and chilling away from Jaguars camp.
It's widely believed that the Jaguars and Blackmon are far apart on how much of that money would be fully guaranteed even in the event that off-field trouble derails Blackmon's career. There were already some league observers who thought the Jaguars were taking a chance on a character risk when they drafted Blackmon, and when Blackmon was arrested for drunk driving, those concerns were amplified.
If Blackmon needs some advice here it goes: sign the deal, get your butt in camp and work. If you are truly a changed man then the protective language won't matter because you won't be in trouble!