Jaguars Plan to Build Around Blaine Gabbert While MJD Holds Out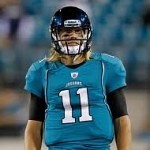 The Jaguars used a top ten pick to draft Blaine Gabbert last year, and many people looked at the organization sideways for doing so.  Last year was a struggle to say the least, as the team only won five games with Gabbert at the helm often struggling and looking timid in the pocket.
It is no secret that Jaguars' management is all in on Gabbert.  They drafted Justin Blackmon this year and also signed Lee Evans and Laurent Robinson to nice contracts.  All of this while Maurice Jones-Drew held out for a new contract.
MJD has every right to want more money.  He plays the most taxing position on offense and led the NFL in rushing last season.  He just saw every other running back get their extensions.  It is only right that he's next…. right?
Well the Jaguars aren't even blinking.  They have continued business as usual and what is even worse is that football is weeks away and MJD has not even met his new coach yet:
Jags coach Mike Mularkey told CBSSports.com's Pete Prisco that he hasn't even met holdout running back Maurice Jones-Drew yet.

"I don't know him at all," Mularkey told Prisco, adding that other than a few stray phone calls, there has been no contact. He added that running backs coach Sylvester Croom hasn't either, but they weren't allowing it to become a distraction.

"I don't drive home or sit in my office worrying about it," Mularkey said. "I don't waste the energy."
When you go 5-11 I think the #1 priority would be to get your best player in camp.  But then again, that's why the Jaguars are the Jaguars.