Rumor: Justin Blackmon to Hold Out All of 2012 Due to DUI?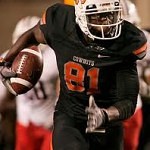 File this under things that will never happen. Please.
Justin Blackmon was arrested on his second DUI charge in two years, which is already a bad way to start a career. However what is even worse is that the problem is compounded by the fact that he hasn't signed a NFL contract yet. Thus some are speculating the Jaguars will use the arrest as leverage to lowball Mr. Blackmon.
Due to all this, some people have begun posting rumors that Blackmon will hold out all of 2012 and re-enter the draft in 2013. Didn't we hear something similar about Michael Crabtree and his rookie deal? Why is it always the receivers rumored to hold out an entire year?
This is not going to happen, point blank period. Blackmon will sign his deal, serve whatever suspension Godell serves up and play for the Jaguars.
Random: Meet Justin Blackmon's OSU Cheerleader Girlfriend