UCLA Has Offered a Scholarship to Snoop Dogg's Son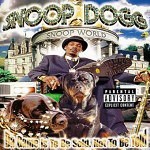 I know what everyone is thinking. If you are a rapper's son you will get an offer at UCLA just because they have seemingly lost interest to USC. Whether that is true or not, what we do know is that the DOGG's son will be offered by the Bruins:
When UCLA offered Cordell Broadus a scholarship, the Bruins were doing more than trying to attract a promising sophomore wide receiver and defensive back for Diamond Bar (Calif.) High. In essence, the program was staking a claim to territory in the L.A. pop culture spotlight, for one very clear reason: Cordell Broadus is Snoop Dogg's son.

As reported by the ESPNLA and the National Football Post, UCLA coach Jim Mora Jr. recently offered a scholarship to Broadus, despite the fact that the rising sophomore has spent just one year in high school, and played on the Diamond Bar freshman squad during that campaign. At 6-foot-2 and 185 pounds, the younger Broadus — Snoop Dogg's legal name is Calvin Broadus — has a body which could develop into that of a legitimate Division I prospect, but no one knows whether he'll continue to grow.
A 6-2 185 lb Sophomore WR? I think this is legit if Cordell can catches passes like his dad (Im kidding, Im kidding!)