Russell Wilson: Where is he Playing in 2012?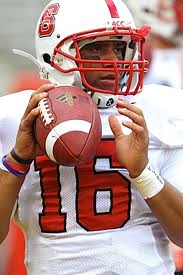 Russell Wilson has big decisions to make.  Either keep playing football as a grad student, or take his talents to the baseball diamond full-time.  What will he do?  There are a few options he has.
On the football side, Wilson is garnering a ton of attention from programs that feel they are a QB away from a national title.  Wisconsin and Auburn are the leading candidates to sign him for this fall.  Wilson has already visited both campuses and left the internet buzzing with glowing reviews following his stay on campus.
CBS reported via an unnamed source, "He definitely liked Madison better than Auburn."
On the baseball side, Russell has already been drafted by the Colorado Rockies and claims he hasn't decided which sport he would like to play going forward.
If you have to make me bet, I'd put my dinero down on Russell throwing passes for the Badgers this fall.  I'm not sure if the shoes of an ICON AND ENTERTAINER are those you want to fill.