2012 Recruiting: UCLA's Justin Combs Asked to Give Back Scholarship Because His Dad is Diddy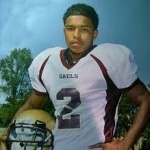 I am not a political guy but this is probably the dumbest story that has come across the wire in a while. Ever since the "occupy" movement, the number of Americans who feel entitled to the perks of life without putting in the work has grown way out of control.
Justin Combs is good at football. He's a good student as well with a 3.75 GPA. He EARNED a scholarship the same way your children can. Why should he have to give it back just because his dad happened to make "Puff Daddy and the Family?"
There's no denying Diddy can afford to send his son to college. The entertainment mogul was recently named the wealthiest artist in hip hop by Forbes Magazine, so far adding $45 million to his empire in 2012 alone.

But Combs' scholarship, which is awarded to student athletes specifically, is one of about 285 full athletic scholarships UCLA awards each year, according to a statement issued Wednesday.

Still, some students are balking, calling on the athletic department to reconsider the scholarship altogether.

"UCLA's athletic department needs to consider the fact that perhaps there is another athlete on the football team, who could perhaps really use this scholarship," UCLA student Neshemah Keetin told CBS Los Angeles.
Diddy's money, is Diddy's money. Justin worked his butt off and earned his own money for his education. He should not be penalized from receiving that money because his dad is a great business man.
Maybe you should stop whining and go get good at something.