Will He Go: Arkansas Wants Pete Carroll to Replace Petrino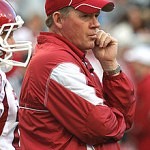 Bobby Petrino really messed up when he was in a motorcycle accident with his "friend" Jessica Dorrell and attempted to cover up what looks like a out-of-marriage affair with the 25 year old.  Arkansas has quickly fired Petrino after learning he gave Dorrell a job over other applicants along side the affair.  With that said the Razorbacks need a new head football coach.
According to sources, the spot has been offered to former USC and Seattle Seahawks coach Pete Carroll:
Sources tell 5News Sports that Seattle Seahawks coach Pete Carroll was contacted by Arkansas officials about the Hogs Head Coaching opening, but turned them down.