2013 Draft Preview: Tyler Wilson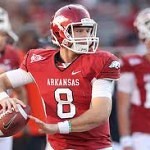 Tyler Wilson had a lot of expectations going into his first season as a starter in 2011. Not only was he expected to replace Ryan Mallet, but he was also expected to quarterback the Razorbacks through an incredibly tough $EC schedule.
I think we can all agree that Wilson supplanted himself as a top QB prospect in the 2013 draft with the season that he put up that saw Arkansas go 11-2 only losing to the two teams that played for the National Title LSU and Alabama.
Tyler threw for 3628 yards on 63% passing with 24 TD's and just 6 interceptions. He also added 175 rushing yards and 4 TD's on just 60 attempts.
There is no doubt that Tyler's accuracy (though streaky at times) and mobility have him pegged as one of the top 3 QB's behind Matt Barkley including Tennessee's Tyler Bray and Virgina Tech's Logan Thomas.
If somehow Tyler can lead Arkansas to a National Title game this upcoming season in the wake of Bobby Petrino's absence we may be looking at the #2 overall draft pick. At the very least with another excellent season Wilson will go in the top 10 easily.
Didn't I hear some Arkansas alum that happens owns a football team say the window is closing on his current QB?
hmmmmmmmmmmmmmm