Will Tyler Wilson's Draft Stock Slip Due to Injury and Arkansas Loss?
Updated: September 10, 2012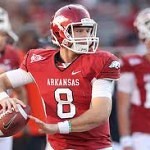 Tyler Wilson is rated as the #2 QB on many 2013 NFL Draft boards. That's all fine and well… until the games get real. With Arkansas losing to Louisiana Monroe, falling completely out of the Top 25, and Tyler getting hurt in the game will things fall back on Wilson?
After coming into the weekend ranked No. 8 and considered to be one of the contenders for not only an SEC title but perhaps the national title, Arkansas suffered a 34-31 overtime stumble to the Warhawks and are now unranked.

The drop in polls was salt in an already festering wound. During the game, Arkansas lost quarterback Tyler Wilson and cornerback Tevin Mitchel to head injuries. Both were admitted into the hospital in Little Rock and were kept overnight for observation. According to the university, Mitchel will continue to be monitored in the hospital while Wilson will be released and is day-to-day.