Saints to Lose Multiple Draft Picks for Bounty Program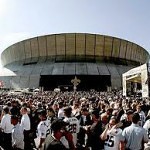 The NFL's commissioner Roger Godell heard the appeal of the suspended members of the New Orleans' Saints coaching staff and has upheld his ruling.  Coach Sean Payton will not be allowed to coach his team in 2012.  Rumor is that Bill Parcells may come in as a "substitute teacher" but nothing substantial has come yet.
Pertaining to the draft, the Saints are going to be weaker in the upcoming NFL Drafts.  In 2012, New Orleans' second round pick will be forfeited.  In 2013, more picks may be forfeited as well:
As we understand it, the Saints will still have a significant draft-pick penalty in 2013, to go along with the loss of a second-round pick in 2012.
Profootballtalk
For a team that just lost CB Tracy Porter and WR Robert Meachem, that second round pick could have been used to replace one of those players.  Next year the Saints will probably have more holes.  Its a big penalty but on the bright side you always have Drew Brees.