Robert Griffin III and Barry Sanders Make Cover of NCAA 13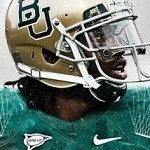 EA sports is doing this cool thing where they let the fans vote which former Heisman athlete would join Robert Griffin III on the cover of NCAA 13. For a while it looked like Doug Flutie would get it but no, Oklahoma State's Barry Sanders is the lucky co-coverman for NCAA's latest offering.
My only question is Why does RGIII look so short?
Cover Below: