2012 NFL Draft: Morris Claiborne Scores a 4 on the Wonderlic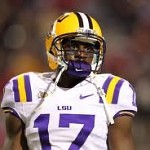 LSU corner Morris Claiborne is far and away the top corner in this draft. It would be no surprise if he went as high as #3 overall to the Minnesota Vikings. With that said, you have to be informed if you an NFL team about to drop millions in his career.
Morris scored a whopping 4/50 on the wonderlic according to PFT:
Breaking sports news video. MLB, NFL, NBA, NHL highlights and more.
As a corner, no one really cares. The wonderlic is a high pressure, timed IQ test that a lot of very intelligent people in all sorts of fields other than football score averagely on. Morris will be ok.