2012 NFL Draft Rumors: Kellen Moore to Saints?
Updated: February 25, 2012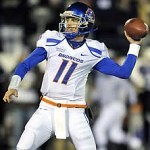 It seems as if New Orleans has a good thing going and they are going to double down with the short guys at QB. Not only do they have Drew Brees and Chase Daniels, but rumors coming out of the draft community are reporting that the Saints are interested in the former Boise State Broncos QB Kellen Moore.
Here are the details:
Source says he expects #Saints to add Kellen Moore, likes his chances to succeed under Sean Payton
Credit: Cecil Lammey
I think this would be a great move considering Moore has a very similar skillset to the QBs they already have. Though Brees probably has the strongest arm between he, Daniels, and Moore all three QBs rely on accuracy and timing to make up for their lack of height at the position. Kellen Moore is going to be a serviceable QB wherever he goes due to his natural feel for timing routes, and it may be the best thing for him to study under Drew Brees for a couple years before taking over either in New Orleans or elsewhere.