2012 NFL Combine Opens in Indy
Updated: February 22, 2012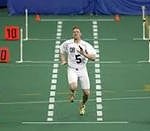 February 22-28th the NFL will hold it's annual scouting combine in Indianapolis, Indiana at Lucas Oil Stadium. Prospects from all of college football have been invited to workout for their prospective new employers in hopes of being drafted to the NFL.
You know the story by now… unknown player no one hears about runs a sub 4.4 40 yard dash, gets hyped to no end on ESPN, only to go to the league and do squat. There is a reason we have the term workout warrior and it's not a compliment. It seems that while the combine is still great for getting a player's true vitals (height, weight, speed, body type) GM's and scouts are quietly shifting to a model of using more film to grade players. As they should.
Players who can help themselves the most include the trio of North Carolina defenders Quenton Coples, Donte Paige-Moss, Zach Brown, as well as players who have spent time at non BCS schools such as Vinny Curry and Janoris Jenkins.
NFL Combine predictions sure to be wrong:
Kellen Moore will prove to be among the most accurate passers in the entire draft
Vinny Curry will start to be mentioned as a first round pick
Whitney Mercilus will prove to be a top 15 pick
Robert Griffin runs a 4.39 or better 40 yard dash
Chris Polk (RB Washington) will run the most disappointing 40 time, similar to Mark Ingram; somewhere in the 4.60+ range
Alshon Jeffrey will show up in shape (225 lbs or below) and run a respectable 4.50 or better 40 time