2012 NFL Mock Draft: New Orleans Saints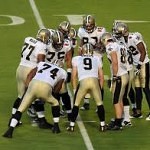 Two years ago, the Saints put their mark on the NFL record books and won the Superbowl. Their high powered offense led the way, along with an opportunistic defense that caused a bunch of turnovers.
In 2011, the Saints offense looked even better if that's even possible. Drew Brees threw for an NFL record 5,476 yards along with 46 touchdowns. Jimmy Graham put up one of the best receiving seasons for a tight end. The addition of Darren Sproles gave the offense an element of explosiveness they have not had in previous years. To sum it up: The Saints offense is pretty darn good.
The thing that still hampers the Saints is their defense. Though they can outscore anyone, you can only go so far if your defense isn't causing takeaways. New Orleans definitely should look to add some young playmakers on defense.
ErrorProne182 put together this very detailed Saints mock draft. Check out the draft below:
1

Saints

CB from Virginia Tech

Round 2, Pick 64: You might be thinking Hosley won't be on the board this late, and that might be correct, but with a disappointing Junior season, the Tech's star corner could fall a ways. If the Saints feel like he won't last until the end of the 2nd round, then they need to trade up to get him. The Saints, ranked 30th in pass defense this year, need some help in the coverage game. Hosley is a future superstar with all the tools you want to see from an NFL cornerback. I think he may even be the best long-term DB in the draft.

2

Saints

ILB from N.C. State

Round 3, Pick 96: With Jon Vilma battling injuries all season long for the Saints, New Orleans will need to add depth to their linebacking core. Jonathan Casillas stepped up and played well with 43 tackles and 3.0 sacks, but an addition like Audie Cole could do wonders for this defense. Cole impressed many at NC State, as he turned in a great senior year for the Wolfpack. He posted 5.5 sacks, 2 forced fumbles and 107 total tackles for NC State. Greg Williams could have a lot of fun with Cole filling one of those linebacker positions on his defense.

3

Saints

CB from Arizona State

Round 4, Pick 128: The Saints are looking to upgrade their secondary. It's been a position the Saints have targeted every NFL draft as of late, and 2012 will be no different. In the 4th round, the Saints should have a chance to draft a ball-hawking cornerback in Omar Bolden. What Bolden lacks in size, he makes up for in athleticism and speed. He has some skill in the return game as well. While he made big plays as a return specialist, most of his big plays came at cornerback. The 5'10″, 195-pound corner made 138 tackles and 7 interceptions in his career at Arizona State, and with the right scheme, he could find success in a black and gold uniform.

4

Saints

DE from Arkansas

Round 5, Pick 160: Bequette is a big-framed, smooth-muscled, white-collar defensive end with pedestrian athletic ability and linear movement skills. He may not be the most explosive DE, but he can produce sacks occasionally. With First Team honors for the Lowe's Senior Class Award, you know he won't give you problems off the field, you just hope he can give the other team problems on the field.

5

Saints

CB from Vanderbilt

Round 6, Pick 166 (from Washington): Once again, the Saints need help in the secondary. Hayward's demeanor and attitude toward the game of football are very impressive. Not only is he a class guy off the field, Hayward made his mark on the football field in the nation's toughest conference. Hayward turned in a phenomenal senior season, with 62 tackles and 7 interceptions with the Vanderbilt Commodores. In his career with Vanderbilt, this 5'11″, 188-pound corner recorded 198 tackles and 15 interceptions. In other words, he would be a steal in the sixth round, which is something the Saints have a knack for.

6

Saints

OT from Oklahoma State

Round 6, Pick 192: Adcock is a stiff, short-armed, try-hard battler who struggled to handle edge speed. He would probably be best suited kicking inside in the pros. His tendency to bend at the waist makes him easily overextended and often fall off blocks. He could very well compete for a job as a zone-blocking right guard though.

7

Saints

ILB from Vanderbilt

Round 7, Pick 224: Chris Marve's new nickname will be Mr. Irrelevant when the Saints take him with the last pick in the draft. Marve turned in an outstanding career as a Vanderbilt Commodore with 398 tackles, 10 sacks and an interception. In a league that features so many great athletes on defense, Marve was widely considered as one of the league's best. Marve would add much-needed depth for the Saints linebackers next season. He's a versatile linebacker that could have a tremendous impact on the game, and Williams would love to scheme around this great athlete.