2012 NFL Draft: Tyler Wilson Will NOT Declare
Updated: January 14, 2012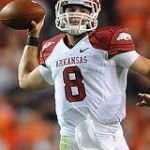 Arkansas fan, you can exhale now.
Tyler Wilson will be back for the Razorbacks in 2012. He released a statement saying that he intends to finish his degree and continue being the quarterback of the Arkansas football team next year.
"I have decided to stay at Arkansas for the 2012 season because I am extremely excited for what this team has the opportunity to accomplish and to finish earning my degree," Wilson said in a statement. "After the feedback I received, the decision was difficult to make.

"Ultimately, the chance to complete my academics and play one more season as a Razorback were compelling reasons for me to remain in Fayetteville. This past year was great for us with 11 wins and a top-five finish and we want to build on that. The group of players we have returning has high expectations and wants to work hard to compete for championships.

"Although my goal is to play in the NFL, I believe I can benefit greatly from another year of working with Coach (Bobby) Petrino and Coach Paul Petrino. I am excited to be able to spend one more season at a university where the leadership shows a tremendous amount of support and the passion of the fans is the best in the country."
This is great news for the 2013 Quarterback crop. It looks like it is going to be a good one with Tyler Wilson, Matt Barkley, Landry Jones, and Aaron Murray all eligible next year. Any team that misses on one of their QB picks in 2011 or 2012 should fret not. Help is on the way!