Tyler Bray Out for 4 Weeks
Updated: October 11, 2011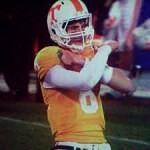 The current consensus 2013 Top Pick Tyler Bray suffered an injury on Saturday night. He will be out for up to the next 4 weeks.
Both the Knoxville News Sentinel and CBS Sports.com's Tony Barnhart are reporting that X-rays have confirmed the Tennessee starting quarterback suffered a broken thumb on his right (throwing) hand in the loss to Georgia Saturday. As a result, Bray will be sidelined for at least the next four weeks.
You hate to see that happen. It's not like Tennessee was going to win the SEC anyways (let's not kid ourselves) so it is probably best Bray heals completely up and does not jeopardize himself for the long term.