Bryce Brown to Enter 2012 NFL Draft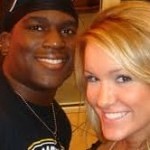 Bryce Brown was the #1 ranked player coming out of high school at one time.  He went to Tennessee, then went M.I.A. once Lane Kiffin ditched "singing rockytop alllll night long" for the USC fight song.  Since then, Brown has popped up at Kansas State where he been placed at 3rd on the running back depth chart.
Now he is taking his talents to the NFL beach.
Kansas State running back Bryce Brown is done with college football and plans to enter the 2012 NFL draft, according to Knoxville radio host Jimmy Hyams on Twitter.
This is probably not a good idea.  Bryce Brown has all the talent in the world but we have not seen him put it together and show any kind of consistency doing so.  If you are a GM would you feel comfortable giving this guy hundreds of thousands of dollars when you know up front that he has a habit of disappearing?
We'll see how Brown runs and all that at the combine, but don't plan on hearing his name called this spring.  The character issues are going to be too much for a team to look past in my opinion.  This feels like the Maurice Clarett situation all over again…