Randy Moss to Sign With the New Orleans Saints?
Updated: September 11, 2011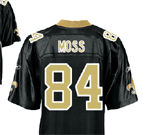 Depending on what you believe, Randy Moss did or did not visit with the New Orleans Saints yesterday. I've read conflicting reports that say yes, Moss was there, and other reports that refute the Saints' interest in the Boss Randy Moss. With Marques Colston out at least one month with a broken collarbone it would be a nice consolation prize to grab Randy Moss for Drew Brees and company.
Joe Segal (Moss' agent) is denying any contact with the Saints according to Profootball talk.com and Adam Schefter. A local New Orleans source WWLTV reported something a bit different:
Eyewitness Sports' Juan Kincaid has learned that retired wide receiver Randy Moss was at the team's Metairie facility Saturday, according to several sources.
I don't care what anyone says. Randy Moss can help a lot of teams in the NFL. People are saying he lost a step, but they are also forgetting that Rusty Smith was one of the QBs throwing to him last year. I am just saying.