Is LSU Sophomore Tyrann Mathieu the Best Defensive Player in the Country?
Updated: September 26, 2011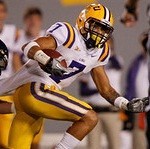 Is it possible that a sophomore cornerback is the best defensive player in all of college football? I know you're probably thinking "no way" but let's look at it this way. The way Tyrann Mathieu is playing right now is on a level that is above many cornerbacks we have seen drafted in the top 10 and he can't even declare for the draft until 2013.
Mathieu is probably the best player on LSU's defense, and that defense is the best defense in the nation. He is always around the ball and making huge momentum changing plays. Against Oregon (a 40-27 beatdown) Mathieu stripped a kick returner and scooped up the ball for a special team touchdown. He finished the contest with 10 tackles. Yes, people 10 tackles and a touchdown against the then #3 team in the nation.
Against #25 Mississippi State Tyrann simply followed up with another 10 tackles and against #16 West Virginia he finished up with 5 tackles, a forced fumble, fumble recovery, and an interception.
It's not often I think a cornerback is a "can't miss" game-changing player. If anything, I'm on the side of the fence that says that you don't need great defensive backs to win if you focus on the other seven positions. But Tyrann Mathieu has a nose for the ball and creating turnovers that we haven't seen since dare I say Ed Reed.