2009 #1 Overall Recruit Bryce Brown Now Third String at Kansas State
Updated: September 8, 2011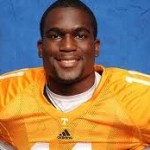 It hasn't been a good year for the third string. First the Broncos throw Tim Tebow on the third string now this.  Former Tennessee Volunteer and former #1 overall high school recruit Bryce Brown has been regulated to third string on his new squad, Kansas State.  If you remember Lane Kiffin recruited him down in Tennessee before he jetted off to USC.
Here are the details (CFT):
K-State coach Bill Snyder announced that Brown, just as he was for the Wildcats' season-opener against Eastern Kentucky, would be the third-string running back going forward."I think for him, getting invested is probably the most significant thing for him," Snyder said. "And I think he's making some headway in that respect. I think he's a little more into it. He missed a lot during the course of the summer, so there's a lot of catching up for him to do."

Brown carried the ball just three times for 16 yards against EKU, his last carry being a fumble. Ahead of Brown are sophomore John Hubert and JUCO transfer Angelo Pease.
Bill Snyder has always been a master motivator and has gotten a lot out of players that others have overlooked.  Darren Sproles' near Heisman season comes to mind.  Here's hoping Bryce cracks the rotation sooner rather than later.