College Football's Top 10 Preseason Rankings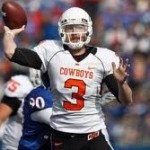 Everyone prepare to be disappointed if you do not attend the University of Oklahoma or root for the Sooners. The top 10 came out, and they have the inside track to the BCS. Check out who else made the cut:
Oklahoma Sooners
Alabama Crimson Tide
Oregon Ducks
LSU Tigers
Florida State Seminoles
Stanford Cardinal
Boise State Broncos
Oklahoma State Cowboys
Texas A&M Aggies
Wisconsin Badgers
I think the rankings are a bit Big XII happy, but that is what the season is for.  Oklahoma and Oklahoma State will play each other, so by the end of the season one of them won't be in the Top 10.  Wisconsin and Alabama are introducing brand new QBs, so that could play either way.  Virginia Tech is ranked 13th and has the easiest schedule of the top teams by far.  We'll likely see the Hokies crack this list in a few weeks time.
Can't wait to get this season underway!