Arkansas RB Knile Davis Out for the Season With Ankle Injury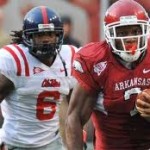 The leading rusher in the SEC will not be suiting up for 2011. RB Knile Davis of the Razorbacks suffered an ankle injury that is reportedly going to keep him on the sidelines all season long. Many experts feel that Knile was a lock to go in the first round on the 2012 NFL Draft. It is unclear what the future is now for Knile.
FAYETTEVILLE, Ark. (AP) – Arkansas coach Bobby Petrino confirmed Friday that running back Knile Davis is expected to miss the season because of a left ankle injury.
The Razorbacks were a BCS darkhorse pick to come out of the SEC but it seems that the loss of their starter in the backfield might be too much to overcome. Knile accounted for over 1,300 yards of offense last season and that was with Ryan Mallet leading the helm at Quarterback.
Hopefully it is a speedy recovery and he can get back out there sooner than later!