Vincent Jackson, Logan Mankins Hold Up New CBA?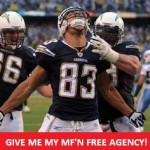 There is a reason you have not seen up-to-the-minute details on the lockout here at MDHQ.  The reason mainly being is that the petty business side of football is extremely boring.  Everyone knows that the millionaires and billionaires aren't going to let a billion dollar business just go on hold for a year while everyone bickers over nonsense.
According to various reports from ESPN, there is now a rookie wage scale for NFL Draft selections, 16 games, and more pad less workouts in the new CBA.  However one thing that is unresolved is the status of franchised players such as Vincent Jackson of the Chargers and Logan Mankins of the Patriots.  Both players are extremely upset they have been franchised multiple years without an extension.  There are also reports that their lawyers may be seeking $10 million dollars in compensation if the players are not allowed to become unrestricted free agents under the new CBA.
Jason Cole of Yahoo! Sports reports that Chargers wide receiver Vincent Jackson is in the same boat as Mankins, and that the two men have made specific requests to the league: They either want to be declared free agents, or they want $10 million for last season.
Source: PFT
All in all, look for the CBA to be done before August, with a four day free agent frenzy, then a slide into preseason.  The NFL is probably going to do something to compensate Jackson and Mankins to get on with the show.