2011 NFL Free Agents: Who's Out There?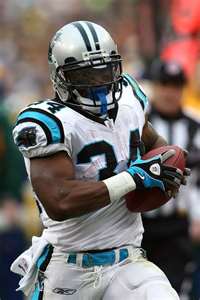 It's an extremely slow news season for the NFL.  Unless you want to hear about billionaires sneaking around having secret meetings on how to divide more billions with their employees, there is nothing to talk about on the NFL front.
So while thinking about what may happen when the lockout is eventually lifted, a topic that definitely needs to be accessed is the free agent situation.  Especially when looking at the 2012 NFL Draft, you have to put in perspective which teams are going to fill their needs via free agency.
Barring anything crazy happening, I am going to assume top flight players like Michael Vick and Peyton Manning won't hit the free market.  So here who is going to be available in 2011:
Quarterbacks
Matt Hasselbeck
Marc Bulger
Prediction: Hasselbeck eventually gets his asking price with the Seahawks.  Marc Bulger becomes a Dolphin or a 49er to man the ship for the young Qbs there.
Runningbacks
De'Angelo Williams
Darren Sproles
Ronnie Brown
Ricky Williams
Prediction: The Dolphins resign Williams to a 1 year deal.  Ronnie Brown gets a mega deal from the Washington Redskins (Dan Snyder remembers the 4 TD games out the wildcat), De'Angelo becomes a Denver Bronco, and Sproles takes his talents to some NFC team like Tampa Bay or Carolina.
Receivers
Randy Moss
Vincent Jackson
Santonio Holmes
Braylon Edwards
Terrell Owens
Prediction: Moss becomes a Jet, Holmes resigns with NYJ, Braylon becomes a Texan, Vincent Jackson becomes a Ram or Redskin (whoever bids higher), and T.O. chases a ring as a Patriot or Chicago Bear.
Stay tuned for part two tomorrow, where we will take a look at the defensive side of the ball.