Kerry Collins Retires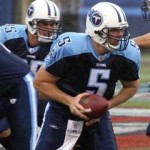 While I will never forgive or forget some of the rants he made at the beginning of his career, I do respect the career that Kerry Collins made for himself.  That career has ended today with the announcement of Collin's retirement.  Apparently he was serious about not holding the clipboard for Jake Locker.
Adam Schefter tweeted:
AdamSchefter

Kerry Collins is announcing today that he is retiring from the NFL. about 2 hours ago via web
Lots of people did not know that Collins was approaching some serious passing records in the later stage of his career.  He is one of only 12 players to finish with over 40,000 passing yards in a career.  He also took the Giants to a Super Bowl in which they were defeated by the 2000 Ravens.