Demariyus Thomas Cited For NCAA Violation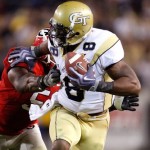 The NCAA announced that is has cited Georgia Tech for NCAA violations regarding former star wide receiver Demariyus Thomas. Thomas played for the Yellow Jackets during their ACC Championship season two years ago and according to the NCAA he was ineligible.
Thomas was cited for taking approximately $311 worth of free clothing from a former player who worked for a sports agent. According to the rule that is an impermissible benefit. Yes, again with the benefits. I'm not going to type out an all out rant again, by now you should know where I stand.
The NCAA uses far too many resources to criminalize these student athletes. Seriously, you go through all this investigating over $311?! You take away an ACC title over $311?!!!!!! First it was tattoos and rental cars, now you better not accept any snapbacks, fitteds, t shirts, or Jordans as well.
Big brother is watching.