Mark Herzlich Selected With Next to Last Pick in UFL Draft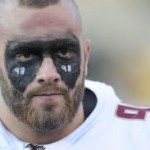 Now, I have no idea if the UFL is drafting these players with the idea that they will actually play for them or not.  As far as I know, undrafted players are waiting for the NFL to be "back open for business" so they can negotiate free agent deals via their agents.
Either way, the story of Mark Herzlich didn't end with him being a high NFL draft pick but hey at least he will play pro football.  I'm pretty sure he will end up getting a shot at the NFL though.
via twitter:
With the 51st pick in @theUFL Draft, Omaha selects BC LB Mark Herzlich. Incredible story. Go get 'em, Mark!