Luke Kuechly Wins Four Postseason Awards
Updated: December 13, 2011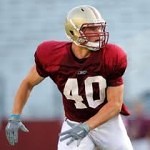 A few days ago I was going to do a story on this. The Butkus Association sent me the shortest press release of all time. It simply read:
KUECHLY WINS BUTKUS
I guess that was a sign of things to come. Luke Kuechly has simply been dominating up there at Boston College. It was routine for him to have 10-11 tackles by HALFTIME. That's a full days worth of work for most players.
So far he's taken home these following awards:
Lott IMPACT Trophy
Lombardi Award
Butkus Award
Nagurski Trophy
In case you are wondering Luke finished up with 191 tackles on the season.  Well deserved if you ask me!