Missouri Fan Says Gabbert Isn't The Real Deal
Updated: January 25, 2011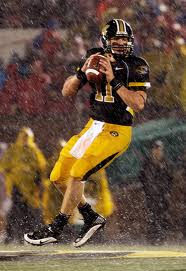 I found this very interesting when checking out some of the new mocks posted here at MDHQ.  One draft, by a Missouri fan "Tigergator" had some very strong comments about Blaine Gabbert in it.  He wrote:
I'm a Mizzou graduate. I've watched this guy play for years and have seen him play in person. My evaluation: he's not going to pan out in the NFL. I like the kid, but he just ain't got the chops. Doesn't mean he won't be highly drafted though
Leave Tigergator some comments on his mock draft here.