Jeff Fuller has a Field Day Vs. Patrick Peterson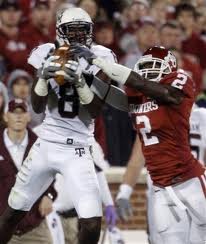 Going into the Cotton Bowl, many draft fans eyes were on LSU's defenders Patrick Peterson and Drake Nevis.  Both players are slated to come off the board in round one.  In some circles Patrick Peterson is heralded as the number one overall prospect on the board, especially now that Andrew Luck will be staying in school.
A large part of Peterson's game is definitely his return abilities.  People have compared him to a better Dez Bryant in the return game.  Peterson certainly had some nice runs in the Cotton Bowl to prove that point as well.  But that is not why people are saying that Peterson is their favorite player on the board.  It is because of his cover skills.  The same cover skills that had a hard time covering Texas A&M's Jeff Fuller at times.
Jeff Fuller was expected before the game to stay in school but it now is unclear if the 6'4 Junior will be taking his talents to south beach the NFL Draft, with Julio Jones and others.  Fuller finished the game with 7 receptions for 83 yards.  Not eye popping on first look, but in the game it was clear that Fuller knew how to use his size advantage on Peterson, catching many back-shoulder grabs over the "#1 player" in the draft.
According to ESPN, when asked about his NFL intentions Fuller replied, "I'm definitely thinking about it."
On the other side of the field, Terrance Toliver had a huge day as well with 5 receptions, 112 yards and 3 touchdowns as LSU went on to close the door on the Aggies.  Toliver, a Senior, will be in the draft and is slated to go as high as the first round.