The Bengals Need To Trade CJ Now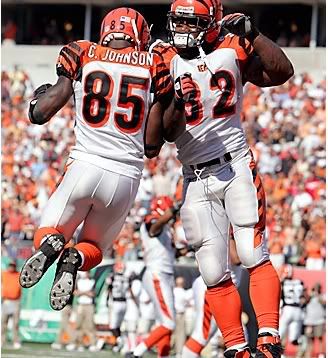 As I said in this post, it would behoove the Bengals to go ahead and deal Chad Johnson now. The Redskins offered a first in this years draft and a third which would be a first if incentives are met in 2009. And the Bengals said? No deal.
Idiots!
Yes, Chad Johnson has your franchise by the balls right now and it's not fair. Yes he does not have to get traded but this guy clearly wants out and if he does play he will be a lame duck. Think Randy Moss in Oakland. No one wants that kind of cancerous cell on their team. Both parties would benefit greatly from a clean break.
For the Bengals, they benefit with two first round picks in a very solid draft class. They could take Sedrick Ellis at 9 if he's there and then take a few WRs later, such as James Hardy with the other first rounder and someone like Darius Reynaud or Jordy Nelson sometime later. Cut the cancer before he spreads Marvin, he will kill you locker room.