Dolphins Release Chad Johnson Hours After Domestic Incident With Evelyn Lozada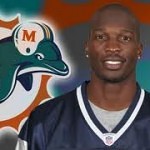 Ever since Chad Johnson joined the Dolphins, I thought that things were going to go very well for him.  Even after watching Hard Knocks and his uneasy interactions with coach Joe Philbin regarding his use of the f-word, I thought that the talent was definitely there and Chad was going to get back to his ways.
Now stemming after his FIRST run-in with the law Chad has been released just hours after bonding out.
AP source: Dolphins release wide receiver Chad Johnson 1 day after his arrest on domestic violence charge: apne.ws/NsjhoO -RJJ

— The Associated Press (@AP) August 13, 2012
It seems like he gets a bad rap though having a very tame life off the field other than yesterday's incident.  Guys like Marshawn Lynch and Braylon Edwards have been given chance, after chance, after chance to remain in this league… why does it feel that Chad is being prematurely ushered out?
If I am John Fox, I am releasing Brandon Stokley and signing Chad to the Broncos before Monday morning's practice.