Kaepernick Anthem Protest Officially Hijacked by the #Conservative #Right
Updated: September 26, 2017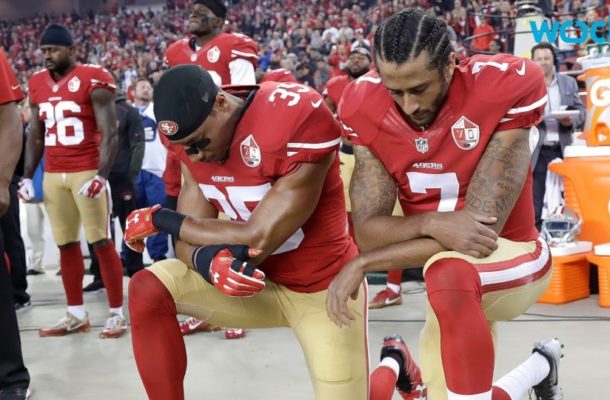 I promise that I am writing from a place of reason and logic. Ever since the anthem protest grew, it was clear that it was only a matter of time before the right found a way to flip it on the "leftists" (aka n*****) and hijack the narrative.
That is exactly what happened.
The #BoycottNFL hashtag created by Shaun King and later promoted by Boyce Watkins has been tweeted out by President 45 himself. We all know that 45 only tweets dog whistles to rile up the conservative right, and that is exactly what happened. The narrative has flipped from the kneeling being about anti-black racism and police brutality and made about veterans and the flag.
People are burning jerseys over the protests and threatening to boycott, forgetting that Black Americans were already boycotting due to Kap being freezed out. Now, out of nowhere owners want to kneel but none of them want to sign Kap. Why is this?
If they are kneeling in support of Kap's message, why can't he be signed? Doesn't a third of the league need a backup QB right now?
Why did Ben Roethlisberger apologize for standing with his team in the tunnel? Mind you they were already standing at attention of the flag and only stayed in the tunnel because Coach Tomlin not want any protests.
Why is Alejandro Villenueva being paraded around as a hero by the conservative right? Even after saying he SUPPORTS the protests?
I know. It all makes sense to me to.