2017 Dallas Cowboys Mock Draft: Need Some D?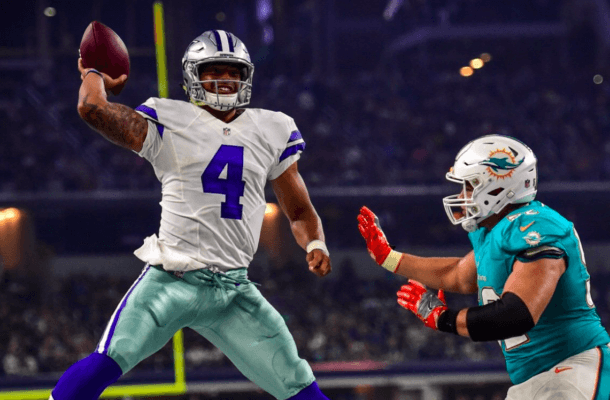 The Dallas Cowboys are exceeding expectations at 3-1. When Tony Romo went down who would have thought that this team would be 3-1 after four games?
Dak Prescott has shown flashes of franchise QB talent but is he the answer? Only Jerry Jones knows.
Or maybe we know here at MDHQ.
That's right, Cowboysfan1993 is back with his latest 2017 NFL mock draft picks. This time around he's focused on defense. Check him out below.
Cowboysfan1993's picks below:

The Cowboys can move the ball on offense but fail to get stops on defense. Tony Romo has had one top 10 D in his almost 15 year career. His defense has given up late leads and failed to get stops when Dallas needed them. They have been weak on that side for years. Hopefully the Cowboys go defense early.

People will say the Cowboys have addressed defense with the number of players they have taken. But quantity does not equal quantity. A bunch of 3rd and 4th rounders normally aren't going to get it done. Hopefully not only do the Cowboys get some quality defensive players, but finally put an end to their futility in drafting after the 1st round.
1. Cowboys: Dawuane Smoot DE Illinois

The Cowboys pass rush woes are well documented. They do not have anyone on the edge who can consistently get to the QB. What's worse is that other than Lawrence they do not have an edge player who can play against the run. Lawrence is more of a do it all DE more so than an elite pass rusher. The DT position has actually been ok, even when Tyrone Crawford has had to move outside. The Cowboys also have a lot of depth at the DT spot. The Cowboys will not be bad enough to land the prize of Myles Garrett, but they can get Smoot. Smoot is 6'3″ and his weight ranges anywhere between 255 lbs. and 265 lbs. He should be able to bulk up a little to handle the bigger and stronger OT in the league. In order to be a good pass rusher, you need to have a good first step and Smoot's is as good as anyone's. He gets off the line in a hurry. He is proficient in being able to use his speed to get around a corner and then has a counter move in which he converts speed to power throwing OT off balance and getting into the backfield. Smoot has a lot of potential but there are things to improve on, primarily the usage of his hands. He does not have many pass rush moves, but a good coach will be able to refine those issues and hopefully turn him into the edge rusher Dallas needs.
2. Cowboys: Savion Brown CB UL Lafayette

Washington has become CB U for a brief period of time with guys like Desmond Trufant and Marcus Peters. That should continue with Sidney Jones. Jones is a 6'0″ 185 lbs. CB with the ability to play in man or zone coverage. He has great ability to close in on routes once the ball is thrown. Underneath throws are not an issue for him. Like Peters he is a great ball hawk, not just in terms of INT but also forcing fumbles. He does not shy away from tackling, but there are times when against the run he doesn't seem interested in sticking his nose in there. I attribute this more in terms of inconsistency and not having the ability to tackle. He is a better coverage CB than Peters and doesn't take as many gambles on the route that Peters does. Meaning he won't get as many turnovers, but he also won't get beat nearly as often as Peters. He is listed at 6'0″ but may be smaller than that coming closer to 5'11" or 5'10". Even with the adjusted height he plays bigger than he is. Surprisingly the Cowboys secondary has been the saving grace of the defense. Mo Claiborne and Brandon Carr have actually done fairly well. I expect only one to be back next year, meaning that there is an open spot. CB isn't the biggest need, that falls on the D line and LB positions. But improving the secondary doesn't hurt.

WAIT! This draft continues.
CLICK PAGE 2 BELOW
More picks after the jump!

Pages: 1 2