NBA Banana Boat Crew Calls for Change in America [Video]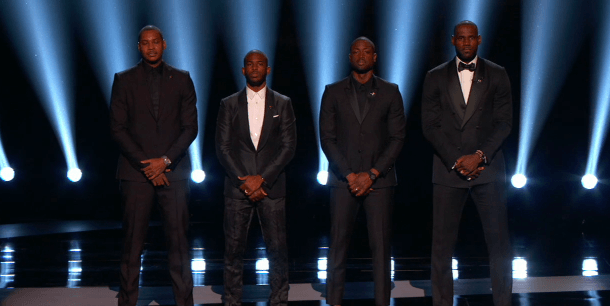 The ESPYs opened with a powerful moment from the "Banana Boat" Crew of Carmelo Anthony, Lebron James, Chris Paul, and Dwayne Wade. These men called for action from their fellow athletes as well as the community at large. Chris Paul and Wade's parts are especially chilling.
It must stop. The victim blaming must stop. The police violence must stop. Preservation of life must be the talking point in dealing with police/civilian interactions. And that is on both sides. People do not need to be arming themselves against a government that quite frankly offers them the best opportunity and freedoms in the known world as a birth right.
I hope these worlds did not fall on deaf ears. Yes I myself just published an article that declared that "Black Lives Don't Matter" but the nation's citizens can change that if they choose. It starts with the little things. Those little things can snowball into something great for the state of America at large.
Video below: