DeAndre Hopkins to Holdout on Texans [Update]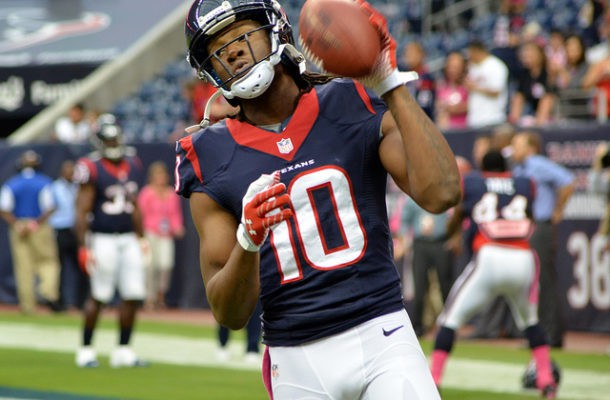 Von Miller got paid, the entire NBA got paid, and now DeAndre Hopkins wants to join that club. The Texans' star WR has said publicly that he wants to be paid fair market value, and apparently BRINKS trucks will be involved.
That's right.
The sure handed wideout has decided to hold out on the Texans until he is taken care of:

Houston (CBS HOUSTON) –

UPDATE:The Texans have released a statement from general manager Rick Smith.

"We are disappointed DeAndre has elected not to report to training camp with the rest of his teammates. He has expressed his position regarding his contract status, and we have been clear with both he and his representatives of ours. Our focus is on the 2016 season and all of our collective efforts and attention with be centered on that endeavor."

The Houston Texans number one wide receiver left training camp on Saturday a day before full-squad squad practice looking for a new deal.

Per me and@AdamSchefter, unhappy with his contract, Texans WR DeAndre Hopkins has left camp. Holdout underway. Texans aren't negotiating.

— Tania Ganguli (@taniaganguli)July 30, 2016

Hopkins in entering his fourth season of his rookie contract. Last week he said that he wanted to be paid "what he's worth" but didn't specify. Now he believes he is worth more than he is currently making.

The Texans traditionally resign players before their rookie deals expire like they did with J.J. Watt in 2014 (two years before his deal was up) and Whitney Mercilus in 2015. The Texans can pick up a 5th year option for just over $7 million for the 2017 season if Hopkins comes back and they don't extend him.

Hopkins is likely looking for a new contract that will get him around $14 million a year and $35-$40 million guaranteed. He possibly could be the highest paid wide receiver in the league if he gets a new deal.
If the Texans are smart they will re-up Hopkins before Antonio Brown hits the market again. Looks like we won't see DeAndre until this thing is settled.
For those counting, Hopkins put up 111 catches for 1,521 yards and 11 TD last year.
UPDATE:
After a one-day holdout, DeAndre Hopkins is returning to Texans, per source.

— Adam Schefter (@AdamSchefter) July 31, 2016